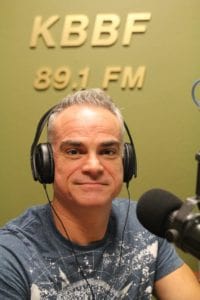 Radio Program
Listen to the radio program live or to past shows »
Nuestra Tierra/Our Earth is a one-hour radio show that serves as a resource hub that provides a voice to different environmental topics to outreach the Spanish-language audience in Sonoma County and surrounding areas where KBBF's signal is broadcasted. This show provides the opportunity to highlight the services and availability of resources from multiple agencies in the same region; which include water agencies, waste management agencies, sanitation districts, storm water programs. Overall, these agencies play a big part in keeping our local environment, clean, sustainable, and safe.
The program also provides answers to questions that the listeners might have, but that for some reason are afraid to ask. In the process, it clarifies and dissipates any misunderstandings that the listeners might have. It also provides the listeners with a topic of conversation that they could use at home, work and basically anywhere.
---
Nuestra Tierra es un programa de radio de una hora que sirve como un centro de recursos que ofrece una voz a diferentes temas ambientales para educar e informar a la audiencia hispano parlante en el condado de Sonoma y áreas circundantes donde se transmite la señal de KBBF. Este programa radial ofrece la oportunidad de promover servicios y la disponibilidad de recursos de múltiples agencias en la misma región; donde se incluyen agencias de agua, agencias de manejo de desechos, distritos de saneamiento, programas de prevención de contaminación de los desagües de la calle. En general, estas agencias juegan un papel importante para mantener nuestro ambiente local limpio, sostenible y seguro.
El programa también proporciona respuestas a las preguntas que los oyentes pudiesen tener, pero que por alguna razón tienen miedo de preguntar. En el proceso, el programa también aclara y disipa cualquier malentendido que los oyentes puedan tener en cuanto a los programas de reciclaje y los recursos locales. También proporciona a los oyentes un tema de conversación, el cual podrían utilizar en casa, en el trabajo y básicamente en cualquier lugar.